The Churchill Arms dates back to the early 1900s and was originally built by the local farming family who first ran it.
A Brief History of Alderholt
The first use of Alderholt as a name is found in Edward II's reign, when a manor was created and called Alderholt Park on Cranbourne Chase. Alderholt was the most eastern part of the parish of Cranborne (Dorset), which at the time was the largest parish in England. It was bounded by Hampshire, running north east to the stream called Ashford Water, where just opposite Alderholt Mill, Wiltshire joined Hampshire.
In 1855, the main road connecting Cranborne with Fordingbridge was made up and known as Alderholt Street. The different hamlets were separated by great stretched of common heath and bog land around them. 1866 saw the advent of the Salisbury and District railway from Alderbury to West Moors and Alderholt Street became Station Road when the station was built in 1874, being named Daggons Road so as not to be confused with Aldershot.
Lord Salisbury donated the land for St James' Church, which was built and consecrated in 1849. The original school dates from 1847, which is now Kingswood Nursery and the present St James' CE First School in Park Lane replaced this in 1982.
The Reading Room was built in 1904 on land also donated by Lord Salisbury. Lady Salisbury paid for the building whilst Squire Churchill provided the books and magazines. The first Village hall was built in 1922, whilst the present hall was officially opened on 13th January 1968. Modern Alderholt really dates from 1971 when mains drainage was installed throughout the village with a pumping station in Sandleheath Road.
Over a period of 30 years, the population has grown from under 800 to in excess of 3,200.
About Hall & Woodhouse
In 1777, Charles Hall, a Dorset farmer, founded a brewery in the Dorset village of Ansty to provide beer to General Clinton's troops who were stationed on the south coast before being shipped to America to fight the pesky Colonialists. He became the embodiment of the Georgian Merchant.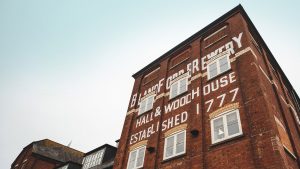 Sixty years later, his son Robert made his nephew, Edward Woodhouse, a partner and Hall & Woodhouse was born.
Over the years they've continued to innovate in beer and pubs, ensuring they remain an independent family company at the forefront of the brewing and hospitality industry.
Their pub estate has grown to over 200, stretching from Bristol to Exeter, London to Brighton and you can find their award-winning range of Badger bottled ales online at badgerbeers.com.