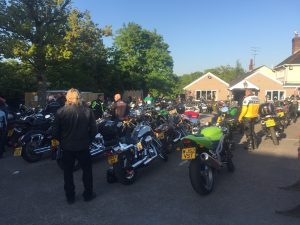 Bike night @ The Churchill
We hold regular events for bikers including our popular Tuesday bike nights, held every week from 5pm. Download Bike Night Flyer »
We also have regular trade shows, bringing local motorcycle shops and clubs together in one place. So if you would like to trade at one please get in touch with Aimi, Lucy or Tanya.
We welcome bikers to enjoy a relaxing atmosphere with good food and drink to suit all tastes.
Food Nights
As part of our commitment to offering delicious pub food, we hold regular weeknight specials from our menu.
Tuesday

Beer and a Burger – 5-8pm
Choose one of our tasty burgers and partnered with a Badger beer or cider on us!
Wednesday
Night of Pies – 5-8pm
Choose from one of our Homemade pies, and match it with a pint from the bar.
Thursday
Steak Night – 5-9pm
Choose from our Grill Menu, cooked to your liking with full accompaniments, includes a pint of beer or a 175ml glass of house wine.
Friday
Thank Cod it's Friday – 12-9pm
What's a better British tradition than battered fish and chips! Bring a friend and start the weekend right at just £20 for two.
Breakfasts are served every day from 10am
Offering a range of cooked breakfast rolls, Full English or Victory Garden Breakfast (for the vegetarians).
Quiz Nights with Donna
Bring your friends and make an insurmountable quiz team to challenge for the rolling jackpot cash prize.
Teams of any size are welcome every Thursday from 8.30pm.